Market Day (9/10): Ashland Kids Create
September 10, 2016 @ 9:00 am

-

1:00 pm
Today we turn the spotlight on our youngest creators.  Our inaugural Kids Create Day will run from

9:30 to 12:30 and will include 

Sally Ghobashi's custom jewelry, Mei & Li Sutherland's handmade curative salves, Willa Marschke's small pillows and blankets, Eryn Flynn's published YA book, Theo Chase's bottle cap magnets, Eliza Fialky's jewelry, & Beatrice Chase & Lily Childs' gift bag tags. If we have enough interest, we'll continue this event next year and open it up to more young participants!
We'll also be inviting all Ashland Kids to create an upcycled Tshirt tote bag. (Check out how easy it is: www.facebook.com/brightside/videos/716994341776487/)
Be sure to bring an old Tshirt.
More fun stuff in downtown! Stop by the Beat Bus at the library from 11-1.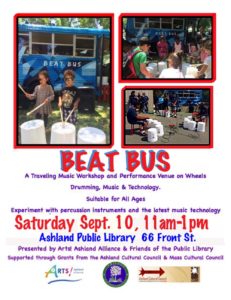 Don't miss any of our awesome food vendors today!
Unfortunately Boston Nut Roasters Lemonade will not be in attendance. We'll have a new lunch option this week- The Capriotti Food Truck. Check out their offerings here: http://roaminghunger.com/curbside-caps-capriottis-food-truck.
Arcadian Farm
Flats Mentor Farm
Long Life Farm
Sunshine Farm
Upswing Farm
Jordan Brothers
ShadyPine Farms
Five Loaves Bakery
OMG! Bagels
Julie's Z Breads
Narraganset Cheese
Acoustic Java
Town Farm Gardens
Amir All Natural Foods
Kabob House
Foodie Cafe
Dulce D Leche Gelato Cafe
Rotating Vendors:
Aaronap Cellars
Cookie Lady Treats
Couet Farm and Fromagerie
Hillcrest Apiaries
Mama Lucia's Biscotti
Nu3kidz
Stop by our talented artisans:
Angel Hair Alpacas
Cheryl Cohen Mosaics
Earthly Wealth by M.R. Fletcher
Pictures ANew/Pottery ANew
Kids' Corner (9:30-10:30): Ashland Kids Create
As part of Ashland Kids Create day, we'll be upcycling T-shirts into bags. We'll have scissors and people on hand to assist. All you need to bring is a T-shirt.
Capital G Band
Decisions at Every Turn
Town Tent:
Library Board of Trustees