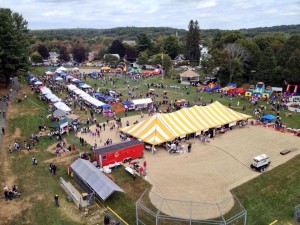 The AFM is going on a Field Trip. Over the past 3 seasons, we've heard requests from customers and vendors to join in the festivities of Ashland Day over at Stone Park. So for one  only, please stop on by the AFM in our special location on the Basketball Courts at Stone Park. Also for this day only, we'll have extended market hours from 9am-3pm.

Here's the vendor lineup:
Arcadian Farm
Flats Mentor Farm
Long Life Farm
Medway Community Farm
Sunshine Farm
ShadyPine Farms
Acoustic Java
Five Loaves Bakery
OMG! Bagels
Julie's Z Breads
Narraganset Cheese
Amir's All Natural
Valicenti Organico
Ackermann Maple Syrup
Tortured Orchard
Town Farm Gardens
Little Beehive Honey
Yummy Mummy Brownies
Boston Nut Roasters Lemonade & Kabob House will be under the Food Tent.
For more info on Ashland Day visit: www.ashlandday.com
---
---