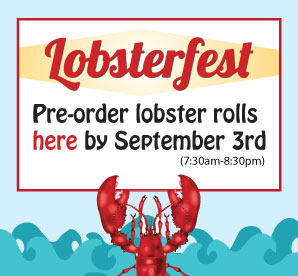 Our Customer Appreciation LobsterFest Day is coming up on 9/5. Click on the above to Pre-Order your lobster roll by 9/3.
We had a huge surprise turnout for our Lobster Fest last season, but not nearly enough lobster rolls, and many of you were disappointed. Thanks to our new neighbor and sponsor, Needham Bank, we should have enough lobster rolls for everyone this year.
Thank you Sunshine Farm for your fresh corn and Jordan Brother's Seafood for amazing lobster!